CJ's Story
The Loss of a Child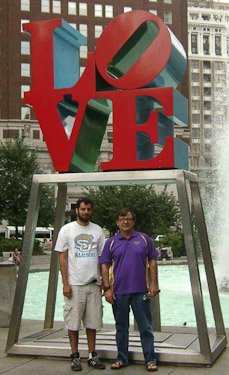 The months following the death of our son Stephen Paul Couvillion from accidental drug intoxication can only be described as "a parent's worst nightmare" (quite literally) thus, a hint at part of the title of this small collection of writings. This collection describes the journey from a nightmare to a new place, called "trying to feel normal again," through a struggle to regain joy (title hint). The months following Stephen's death have been at times, disorienting, bleak, lonely and isolating, filled with anxiety and fear and anger, and always exhausting. Maybe that most describes this time of grieving, just plain exhausting, physically, mentally, and spiritually. Since the writings are dated and ordered chronologically, the reader may recognize some sort of internal struggle coming to completion within the writer, or maybe not.
In the spectrum of human experiences, the loss of a child has to be one of the most devastating. What is most striking about it is the loss of a future not yet lived out and the burying of someone who should have buried you. Your child is supposed to bury you, not the other way around. Considered rare in western culture, the loss of a child is not a well-known experience, war-related deaths excluded, not like burying a parent. Because it is rare, those who have not experienced it have no frame of reference with which to connect with this sort of grief. Consequently, many say the stupidest things, quite accidentally and innocently without even knowing it. In the past few months, we heard it all: "Well at least you had him for 29 years."; "He's in a better place."; "He's at peace now."; "Are you over it yet?" and the standard "How are you doing?" Others just don't make eye contact or avoid you altogether.
Furthermore, our son died after taking heroin into the vein of his arm. When the Temple University police and hospital personnel called separately to inform us (my wife Kathy and me) as we slept quietly in our bed in Baton Rouge, after the nauseating fog of disbelief dissipated, I actually had to look up how to spell "heroin" in the old Merriam-Webster dictionary in my bookcase. I just could not believe this. "My son died from heroin intoxication?" That's what the tape played in my head over and over for several weeks. My small-town upbringing just did not include that manner of death as being within the realm of possibilities for my son. Not my son. Not Stephen. I kept telling myself, "That's what happens to drug addicts." It took a while for me to understand that a drug addict is what Stephen had become at the end of his 17-year struggle with mental and physical afflictions. This fact has been particularly hard to take.
However, the greatest joy (and I'm not just writing this to plaster over the pain and find meaning in this chaos) from this experience, however, is the surprise at how caring and understanding some people can be in a tragedy like ours and in having hope that Stephen is in God's eternal Kingdom. Kathy and I are deeply indebted to those who have not looked away or said anything stupid, especially Kevin Murphy, Ernie and Gretchen Wroten, Pastor Kim Little-Brooks of the Lutheran Church of Our Saviour in Baton Rouge, Joel and Linda Bankston, Sarah and Rebecca Brown, Mike and Robyn Nettles, Matt Cosper, Tina Adams, Susan Behrens, Dr. Gilbert Chase Robinson, Jr., Dr. Thomas Senor of the University of Arkansas, and members of the faculty and staff of Temple University in Philadelphia, Pennsylvania, especially Drs. Nate Norment, Sonja Peterson-Lewis and Nilgun Anadolu-Okur, who so mercifully and faithfully reached out to us in this tragedy.
Loss of a Child--Scroll down to read CJ's entries
This form is for CJ's use. Please scroll down to read his entries.
Loss of a Child, CJ's Story
Follow our RSS feed to read new entries by CJ.
Return from Loss of a Child to Journey-through-Grief home