Inspirational prayers
Sample Prayers
Inspirational Prayers—help with prayer in difficult times
Living in seasons of grief, loss, and difficulty can feel like wordless times when it comes to prayer. Where do you start? What is there to say? Yet in spite of the wordlessness of the season, grief can feel like a sacred space in life. We are fully present to the moment, and all of life is seen through the eyes of loss.
I like how Macrina Wiederkehr says it in A Tree Full of Angels
"We are absent from life far too much. Sorrow makes it impossible for us to be absent, and so, blesses us with real presence. In the midst of our sorrows, distractions fall away, and we are there, raw and open, often confused, always vulnerable, little and great. (p. 36)"
For myself, even though I found it impossible to be absent from life, I also found it impossible to come up with words to pray. I tried a form of Christian meditation called Centering prayer. It is a wordless form of prayer that can be very calming. But I remember telling someone that learning Centering prayer when in grief is like starting marathon training with a broken leg. I just couldn't get my mind to stop wondering without some guidance.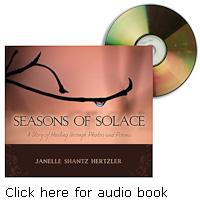 Online Prayer Requests is a place where you can make prayer requests or read and pray for other requests.
Communicating with God is an article about what it means to pray. There are also some great prayer quotes and poems on the page.
Sample Prayers is a list of inspirational prayers that you can use when you have no words to pray for yourself or others.
Praying Our Goodbyes talks about Joyce Rupp's book and provides a prayer that you can use for when a loved one has died.
Prayers for Grief has a couple of the Psalms of Lament from Nan Merrill's book Psalms for Praying.
Use the form below to add prayers that you find helpful. If you wish to read these contributions, scroll down below the form.
Need to chat with a live person? Read our Online Grief Counseling Interviews.
Add a Prayer
Do you have a prayer that helped you through a difficult time? Share it!
What Other Visitors Have Said
Click below to see contributions from other visitors to this page...

Inspirational Prayers
Hail, Mary! Full of Grace The Lord is with Thee: Blessed art Thou among women, and Blessed is the Fruit of Thy womb, Jesus Holy Mary, Mother of …
Return from Inspirational Prayers to Journey through Grief homepage