Seasons of Solace
Janelle Shantz Hertzler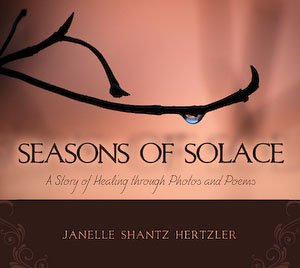 Seasons of Solace: A Story of Healing through Photos and Poems is a book about my own grief journey and my struggle to find healing. The story is told through narrative, slice-of-life poems, alongside nature photos that metaphorically speak to my emotions.
I did not set out to publish when I started writing these poems. I set out to find healing through writing. The poems express raw emotion. And I found that as I wrote them, emotion that seemed frozen within me began to thaw.
Eventually I began to share the poems with others. People told me how hearing my story helped them identify their own grief in their lives. For some it was illness or disability; for others it was a loss of dreams. But somehow they found that they too experienced a healing as they read or heard the poems.
As Donald Hall has said, "Poetry enacts our own losses so that we can share the notion that we all lose--and hold each other's hand, as it were, in losing."
Purchase at:
Amazon
(currently has $5.03 off the cover price)
Amazon-Canada
(currently has $5.10 off cover price)
Amazon-UK
Shop Independent Bookstores Indibound is an organization of local booksellers that allows you to search local stores for any book. This link takes you to a page that allows you to enter your zip code to find the closest store that carries Seasons.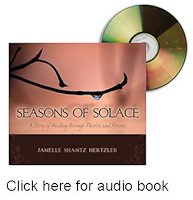 "Seasons" Greeting Cards
There are now blank greeting cards and sympathy cards available, which use the photos from Seasons of Solace.
Preface
Read Seasons of Solace preface.

Endorsements
Read endorsements.

Reviews from Websites and Blogs
As we have just passed the publication date of March 2, there are starting to be some blog reviews. Read the first blog book review. Reader Reviews
Read reviews written by readers of this site.

First Two Poems
Read the first two poems.

Author
You can read more about me on the about me page.


Return to Journey-through-Grief homepage