Hope for Your Grief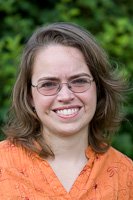 Do you feel alone in your grief?
Or perhaps you have some friends who try to understand, but they don't always "get it." Maybe people's words or silent actions seem to indicate that its time for you to "get over it."
Seasons of Solace audiobook is the story of someone who does "get it."
Grief is not something you get over on other people's timetable. These poems, written with real and raw emotion, will resonate with your own ups and downs of bereavement. Seasons of Solace audiobook lets you know that your reactions to loss are normal and that there is hope for your own journey.
"Janelle Hertzler's spare words take you to deep worlds. Brushing aside all unnecessary syllables, she unveils grief as the blow that it is, and the gift it can be. Through her images she invites the reader to stand with her before the unchangeable, and learn not to turn away. A beautiful telling."


- Paula D'Arcy, Grief Psychotherapist, noted speaker, and award-winning author of A Song for Sarah and When People Grieve
"Wait, poetry? Why poetry?"
After hearing Janelle's poetry reading, one chaplain said, "Your poetry is a prime example of less equaling more. So many grief stories get weighed down in the details. Your short, narrative poems hold the power of your story."
"I don't usually gravitate to poetry. I tend to assume that poetry is something I'm not going to understand. But once I started listening to Janelle's poetry, it was like I forgot it was poetry. It was just her story—a beautiful and helpful story.

I also found the process of accessing the files really simple. And the combination of the audio and visual elements in the bonus video engages more of your senses, which really enhances the meaning."

– Janet Oberholtzer, author of Because I can
Another grief book?
More than just a book about grief, Seasons of Solace paints images with words that one just wants to "soak in" for a while. One reader read one poem each morning, letting the images wash over her and carry her through the day.
"Seasons of Solace is a beautiful book—piercing, questioning, honest, profound. These moving poems about death are full of life. 'Life and death in a slow dance.' Janelle leads us to the depths of grief and lifts us with the healing power of poetry in a book you won't want to put down."

- Susan Wooldridge, author of poemcrazy: freeing your life with words and Foolsgold: Making Something from Nothing and Freeing your Creative Process
Just for widows?
Though written from one person's perspective Seasons of Solace reflects the universal experience of loss. Within the narratives lie broader truths of life and death, love and sorrow, allowing each listener to find his or her own story within the poems.
"Sometimes the enormity of experience can't be conveyed in sentences made up of words. Hertzler found her release by exploring images - visual and verbal, photographic and poetic. A remarkable resonance results - an unusual reverberation between photos and poems but also echoes of the lived experience of people who have survived all sorts of loss and trauma. No matter what your experience, this book is likely to resonate with you as well."

- Howard Zehr, Professor of Restorative Justice at Eastern Mennonite University author of The Little Book of Contemplative Photography and Transcending: Reflections from Crime Victims
Photos in an audio book?
As a bonus to the audio book, you will receive a link to a webpage where you can hear the poems read, while viewing the photos in a Power Point video. The photos are the same photos in the hardcover book and the photos that Janelle uses in live poetry readings.
"I'm not someone who usually listens to audio books, but I loved the bonus video. I would have paid the full price just for that! I found it so calming and meditative. The images were transformational for me."

- Elle Bieling, nurse, health practitioner, and creator of body-window.com
"Seasons of Solace is a gift from and for the soul. Healing never comes in easy straight-line doses. Like poetry, it bubbles then spreads and disappears only to rise again in unexpected moments and encounters. Janelle has shared from her wellspring of moments and encounters—honest, at times painful, and covered with hope.

- John Paul Lederach, Professor of International Peacebuilding at the University of Notre Dame, author of The Moral Imagination: The Art and Soul of Building Peace and The Journey Toward Reconciliation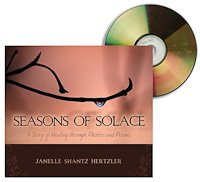 Now you can buy your own personal poetry reading! You can:
listen online,
download a mp3 to your computer or mp3 player, or
burn the mp3 to a CD
Bonus video offer:
You will also be given a link to a web page where you can watch a Power Point video of the poetry reading with photos from the book.



Sample:
Click the arrow on the player below to preview the first minute of the recording:
My guarantee:
Some of the folks who reviewed the audiobook for me, suggested a higher price. My goal is that you feel you got more than your money's worth. If for any reason you feel the product is not worth what you paid, just let me know. And I will gladly refund your money.
Once payment is complete you will receive a page with download instructions and the link for the bonus video.



Payment:
When you click the Buy It Now Button, rest assured you will land on a page that is encrypted and secure. Your information is safe with PayPal, one of the largest payment processors on the Internet. However, you can use this same check out process even if you do not have a PayPal account.
$9.99