Inspirational Sympathy Poems
Religious Sympathy
Some Thoughts on Expressing Christian Sympathy
Many people find comfort in reading inspirational sympathy poems because faith is a source of hope. If you are planning to give a poem to someone in grief, you may want to read my comments about expressing Christian sympathy on the sympathy Bible verses page.
I remember sitting in a church service the first Christmas after my husband died. Someone read in inspirational sympathy poem that he found very meaningful in his grief over the loss of his mother. He offered it to all who had lost loved ones that year. I was not at a place in my journey where I could find meaning in it. In fact some of the sentiments it expressed made me angry. That doesn't make it a bad poem—-just not the right one for me at the time.
On the other hand, I had a friend who offered me a poetry book saying, "If this is meaningful to you, you may have it." I always appreciated that she did not assume that what had worked for her would work for me. I don't assume that my own poems in Seasons of Solace will be meaningful to everyone. Below are Christian sympathy poems by various authors, which you may or may not find meaningful.
Inspirational Sympathy Poems
At the Tomb
My feet drag my heavy heart
to the tomb of my sorrows.
I carry perfume to anoint
the death of my dreams.
I go, knowing a boulder
bars my way.
Who will roll the stone away?
I have no idea. Yet, I go.
Compelled to keep honoring the loss,
to go back to lost desires.
Pulled by strange hope
that this death
will yet lead to life.
-- Janelle Shantz Hertzler,
Seasons of Solace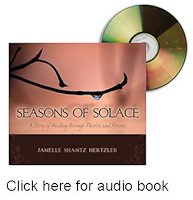 Resting in Him
I do not understand, dear Lord,
Why this has come, nor see
Why days are dark and night so long,
And clouds o'ershadow me.

Dost thou not understand, My child,
Why clouds o'ercast the sky?
That without rain no rainbow bright
Could be, and flowers would die?

So in thy life, My precious one,
Shall I send only sun
To wither, scorch what dormant lies;
And little raindrops shun?

Come lay thy weary head and rest
Upon my breast—nor pine.
This is from Me; I know what's best
Thy beauty to refine.

Just trust Me when the paths unknown
I lead—perchance with pain.
Lean hard, My child, take thou My hand;
Someday I'll make it plain.

There may be mountains rough and steep,
There may be valleys lone,
There may be jagged rocks or thorns,
But thou art ne'er alone.

For I'll go with thee every step;
Thy grief and pain I'll share.
So lean the harder, child of Mine,
I've placed the burden there.

Dear Lord, I may not understand
The way Thou leadest me;
Suffice to know that Thou, O God,
Thy path ahead doeth see.

-- Carnell K. Wilmoth
Some Common Christian Sympathy Poems
Death is nothing at all
I have only slipped away into the next room
I am I, and you are you.
Whatever we were to each other
That we still are.
Call me by my old familiar name
Speak to me in the easy way which you always used
Wear no forced air of solemnity or sorrow.
Laugh as we always laughed at the little jokes
We enjoyed together.
Play, smile, think of me, pray for me,
Let my name be ever the household word that
It always was.
Let it be spoken without effort,
Without the trace of a shadow on it.
Life means all that it ever meant
It is the same as it ever was
There is absolutely unbroken continuity.
Why should I be out of mind because I am
Out of sight? I am but waiting for you
For an interval
Somewhere very near
Just around the corner .
All is well.
-- Canon Henry Scott Holland (1847-1918)
Miss me, but let me go
When I come to the end of the road
And the sun has set for me
I want no rites in a gloom filled room
Why cry for a soul set free
Miss me a little - but not too long
And not with your head bowed low
Remember the love that we once shared
Miss me - but let me go
For this is a journey that we must all take
And each must go alone
It's all a part of the Master's plan
A step on the road to home
When you are lonely, and sick of heart
Go to the friends we know
And bury your sorrows in doing good deeds
Miss me - but let me go
-- Anon
Safely Home
I am home in Heaven, dear ones;
Oh, so happy and so bright!
There is perfect joy and beauty
In this everlasting light.
All the pain and grief is over,
Every restless tossing passed;
I am now at peace forever,
Safely home in Heaven at last.
Did you wonder I so calmly
Trod the valley of the shade?
Oh! but Jesus' arm to lean on,
Could I have one doubt or dread?
Then you must not grieve so sorely,
For I love you dearly still;
Try to look beyond earth's shadows,
Pray to trust our Father's Will.
There is work still waiting for you,
So you must not idly stand;
Do it now, while life remaineth--
You shall rest in Jesus' land.
When that work is all completed,
He will gently call you Home;
Oh, the rapture of that meeting,
Oh, the joy to see you come!
by Unknown
Reflection on inspirational sympathy poems:
You may wish you journal your response to the various poems.
Notice where you feel comforted, where you feel hope.
Notice where you feel angry, fearful, or confused.
If you were to write a poem about finding God in the midst of grief, what would you include?
You may add other inspirational sympathy poems that have been helpful to you in the form below. You can also use it to offer comments on this page.
Book of Inspirational Sympathy Poems
Read this page if you are looking for a book of inspirational sympathy poems to give as a sympathy inspirational gift. Or leave the Inspirational Sympathy Poems page for general poems of sympathy. Leave inspirational sympathy poems for grief poetry.
Struggling to find the perfect sympathy gift? So was Renee Wood, so she designed her own. Read my interview with Renee, Founder of The Comfort Company.
Other articles related to sympathy:

Do you have a poem that you found helpful during loss?
If you have a poem that was meaningful to you during grief, please share it for the benefit of other readers. Also if you have a comment or reflection on any of the above poems you can share it here as well.
What Other Visitors Have Contributed
Click below to see contributions from other visitors to this page...

A Dark Day at Sandy Hook
Today our country is in mourning, And we are so very sad, Because many innocent lives were lost, And we are so very mad. The looks on the children's …
Sympathy Poems
She's in a better place right now Than she's ever been before; All pain is gone; she's now at rest; Nothing troubles her anymore. It's we who feel …
Return from Inspirational Sympathy Poems to the Homepage