Sympathy Bible Verses
Inspirational Words of Sympathy
My Thoughts on Christian Sympathy Comments
I feel somewhat hesitant in adding a page on sympathy Bible verses to my site. Too often we Christians have offered scripture as an answer, and it comes across feeling like covering a severed limb with a band-aid.
Franciscan Priest Richard Rohr points out that the Gospels record 183 times where Jesus was asked a question. He only directly answered three. In other words, Jesus did not come to be our "Answer Man." He came, I believe, to show us how to find God within the messiness and the pain of life.
In my book Seasons of Solace I have two poems that deal with my own grief and struggle with receiving "answers." Here is the shortest of the two: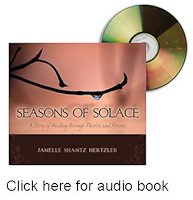 Let Me Wrestle
"God will get you through."
There are tears in his eyes;
I want to kick him.
A mental answer for the brain,
yet my heart is raging.
Can't you let my world be out of control?
Do you need to fix everything?
Can't you let the rage be what it is?
Let me wrestle with God through this night
and trust one morning it will turn into a dance.
My Point?
Let's allow people the grace and the space to find comfort and hope in their own time and their own way. Sympathy Bible verses are best received when those in need of comfort go looking for them themselves. Not when they are given out as the answer to pain. Consider a sympathy inspirational gift that gives the bereaved permission to lament and find hope in God in the midst of the struggle and pain.
Sympathy Bible Verses
Well if you actually made it through my little soap-box sermon about Christian sympathy comments, here are some verses I came up with. There are, of course, many more.
2 Corinthians 1:3-4
"Praise be to the God and Father of our Lord Jesus Christ, the Father of compassion and the God of all comfort, who comforts us in all our troubles, so that we can comfort those in any trouble with the comfort we ourselves have received from God."
Hebrews 13:5b
"Never will I leave you; never will I forsake you."
Matthew 5:4
"Blessed are those who mourn, for they shall be comforted."
Romans 8:11
"If the Spirit of him who raised Jesus from the dead is living in you, he who raised Christ from the dead will also give life to your mortal bodies through his Spirit, who lives in you"
Revelation 21:4
"And God will wipe away every tear from their eyes; there shall be no more death, nor sorrow, nor crying. There shall be no more pain, for the former things have passed away."
Matthew 11:28
"Come to Me, all who are weary and heavy laden, and I will give you rest."
Psalm 73:26
My flesh and my heart may fail, but God is the strength of my heart, and my portion for ever.
Psalm 23
1 The LORD is my shepherd, I shall not be in want.
2 He makes me lie down in green pastures,
he leads me beside quiet waters,
3 he restores my soul.
He guides me in paths of righteousness
for his name's sake.
4 Even though I walk
through the valley of the shadow of death,
I will fear no evil,
for you are with me;
your rod and your staff,
they comfort me.
5 You prepare a table before me
in the presence of my enemies.
You anoint my head with oil;
my cup overflows. 6 Surely goodness and love will follow me
all the days of my life,
and I will dwell in the house of the LORD
John 14:1-2
"Let not your heart be troubled; you believe in God, believe also in Me. 2 In My Father's house are many mansions; if it were not so, I would have told you. I go to prepare a place for you."
1 Thessalonians 4:17-18
"Then we who are alive and remain shall be caught up together with them in the clouds to meet the Lord in the air. And thus we shall always be with the Lord. Therefore comfort one another with these words."
Reflection on Sympathy Bible Verses
What verses feel comforting to you during loss or difficulty in life?
What verses feel hard to read or confusing to you in the midst of pain?
Which Christian sympathy comments feel helpful to you?
What are some ways of expressing Christian sympathy that feel unhelpful to you?
You may find it helpful to journal your responses to these questions.
Bible Memory
Wouldn't it be great to have a way to store these and other helpful scripture passages ready at the forefront of your mind? Click here for a photographic memory technique course.
Struggling to find the perfect sympathy gift?
So was Renee Wood, so she designed her own. Read my interview with Renee, Founder of The Comfort Company.

Return from Sympathy Bible Verses to Words to Express Sympathy Other articles on sympathy:

Return from Sympathy Bible Verses to the journey-through-grief homepage