Poems of Sympathy
Sympathy Verses
Thoughts on Poems of Sympathy
As someone who has been through a season of grief, I have a hard time relating to much of the sympathy poetry that is available. Much of sympathy poetry feels like it is trying to fix something that cannot be fixed.
I personally resonate more with grief poetry that expresses the deep and raw anguish a person experiences through loss. You may also want to check out the grief poems section of this site or my book of grief poetry called Seasons of Solace.

I offer these poems of sympathy below as sympathy grief poems that those in bereavement may find helpful. The last ones are more commonly known. There is also a form below for adding sympathy poetry that you find helpful in dealing with loss.
Life After Death
You're gone.
How can I go on?
One second at a time,
time after time,
still loving and loved,
across the bridge
of your going,
back into my life.
I know you are alive,
but am I?
- Alla Renee Bozarth
Life Is Goodbye Life Is Hello
After Dismembering
Not fixed perfection but
again-and-again completion,
unfolding, open-circling.
To re-member your Self
is to for-get
to get (Be)fore pain
to what you are
deeper down.
To re-member your Self
is to for-give,
to give(Be)fore to yourself
blessing: healing from
the wound by means of the wound
itself; and
comfort: deep strength with
deep peace.
Bless you, Be comforted.
From the moment
that holds you,
begin anew.
- Alla Renee Bozarth
Life Is Goodbye Life Is Hello
Journey through Worlds
Explorer by nature,
I traveled and lived in foreign lands.
For the journey, I took a passport,
plane tickets, and luggage,
learning new languages, ways, and attitudes.
Filled with excitement, adventure,
challenge, and wonder.
But life's circumstances brought me back—
grieving the loss of a husband and a life.
A passport buried in a drawer while
luggage collects dust.
Slowly, a new exploration dawns
within the territory of my soul.
For this journey I need stillness,
trees and rivers, poetry and journals.
Again learning new languages, ways, and attitudes.
Filled with anger, despair,
flickering hope, and waiting.
-- Janelle Shantz Hertzler
Seasons of Solace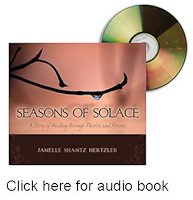 Some common poems of sympathy
Do not stand at my grave and weep
Do not stand at my grave and weep;
I am not there, I do not sleep.
I am a thousand winds that blow.
I am the diamond glints on snow.
I am the sunlight on ripened grain.
I am the gentle autumn rain.
When you awaken in the morning's hush
I am the swift uplifting rush
Of quiet birds in circled flight.
I am the soft stars that shine at night.
Do not stand at my grave and cry;
I am not there, I did not die.
-- Mary Frye
I Measure Every Grief...
I measure every grief I meet
With analytic eyes;
I wonder if it weighs like mine,
Or has an easier size.
I wonder if they bore it long,
Or did it just begin?
I could not tell the date of mine,
It feels so old a pain.
I wonder if it hurts to live,
And if they have to try,
And whether, could they choose between,
They would not rather die.
I wonder if when years have piled--
Some thousands--on the cause
Of early hurt, if such a lapse
Could give them any pause;
Or would they go on aching still
Through centuries above,
Enlightened to a larger pain
By contrast with the love.
The grieved are many, I am told;
The reason deeper lies,--
Death is but one and comes but once
And only nails the eyes.

There's grief of want, and grief of cold,--
A sort they call 'despair,'
There's banishment from native eyes,
In sight of native air.
And though I may not guess the kind
Correctly yet to me
A piercing comfort it affords
In passing Calvary,
To note the fashions of the cross
Of those that stand alone
Still fascinated to presume
That some are like my own.
-- by Emily Dickinson
Reluctance
Out through the fields and the woods
And over the walls I have wended;
I have climbed the hills of view
And looked at the world and descended;
I have come by the highway home,
And lo, it is ended.
The leaves are all dead on the ground,
Save those that the oak is keeping
To ravel them one by one
And let them go scraping and creeping
Out over the crusted snow,
When others are sleeping.

And the dead leaves lie huddled and still,
No longer blown hither and thither;
The last lone aster is gone;
The flowers of the witch-hazel wither;
The heart is still aching to seek,
But the feet question 'Whither?'
Ah, when to the heart of man
Was it ever less than a treason
To go with the drift of things,
To yield with a grace to reason,
And bow and accept the end
Of a love or a season?
-- Robert Frost
Reflection on Poems of Sympathy:

What word or phrase drew your attention?
What word or phrase did you resist or want to push away from
Perhaps you would find it helpful to journal your reactions. Noticing what we find comforting and nourishing helps us heal. And noticing what we find hurtful or difficult to read helps us find places where we can seek further healing.
You can post your comments or additional poems of sympathy in the form below if you wish. You may also add poems you have written here or in the grief poetry section of the site.
Read inspirational sympathy poems here.
If you were looking a poems of sympathy to express condolences, consider this sympathy inspirational gift. Return from Poems of Sympathy to Words to Express Sympathy
Struggling to find the perfect sympathy gift? So was Renee Wood, so she designed her own. Read my interview with Renee, Founder of The Comfort Company.
Other articles related to sympathy:
Expressions of Sympathy
Sympathy Bible Verses
Sympathy Card Wording
Sympathy Quotation
Sympathy Words of Comfort
Do you have a poem that you found helpful during loss?
If you have a poem that was meaningful to you during grief, please share it for the benefit of other readers. Also if you have a comment or reflection on any of the above poems you can share it here as well.
Return from Poems of Sympathy to Journey-through-Grief homepage