The Comfort Company
Sympathy Gifts by Renee Wood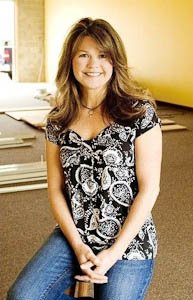 I came across an interview with Renee Wood, founder of The Comfort Company, as I was leafing through a magazine a few months after my husband died. Early in her career, Renee had worked as a medical social worker and had a lot of interaction with those who were grieving. I remember being very touched by her story of how she learned from the bereaved and then went on to start her own company selling sympathy gifts that she feels better meet the needs of those in grief. Following is an interview with her:
Renee, fill us in a bit more about your experience in working with those mourning the loss of a loved one. What did you learn from them?
The greatest lesson I learned is that, as a society, we are really still not meeting their needs. In my experience, their greatest need was to have their loss acknowledged and not minimized. Yet their grief was overwhelmingly being ignored or mishandled.
How did The Comfort Company get started?
The Comfort Company began as an accident. I received a phone call that my sister-in-law's father had passed away, and I wasn't able to attend the services. I went online to try to find an appropriate sympathy gift to send and just came up empty-handed. I got frustrated and decided to take matters into my own hands, literally.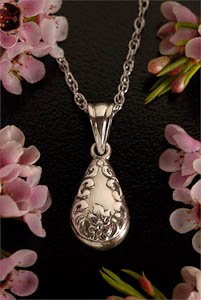 I used some of my daughter's play-doh and created a pendant which a local jeweler then cast into silver. I wrote a verse to go along with the necklace and shipped it off to her. Soon after, demand for the pendant began to grow and The Comfort Company was created to meet the growing need.
Buy the Forget Me Not Teardrop Pendant
Transitioning from a social worker to an entrepreneur must have taken some adjustment. Tell us more about how that came about.
Well, it came about very slowly. I left my career as a social worker initially so that I could spend a season at home with my three daughters. After I designed the pendant I still had no intentions of beginning a new career, I just thought it could be something to dabble with on the side as I focused on being a mom. Before long I began to see that I was growing a business as I was growing my family. It grew at a turtle's pace, so I had plenty of time to adjust my sails along the journey.
From what I understand The Comfort Company grew pretty quickly and gained quite a bit of publicity. It must really be meeting a need. What kind of responses do you hear from customers and recipients of your sympathy gifts?
I have always been very passive about marketing the business because I'm not comfortable in that role. The fact that the business grew quickly and gained publicity made me confident that I was meeting some kind of need for others as well as my need to continue working as a social worker in some capacity.
The customers and recipients of our gifts are generous with their compliments. We are constantly hearing back about the positive impact our products have made in the lives of those who are grieving. Sometimes the recipients simply call the office to thank us for the service we are providing. We feel blessed at these times.
The Comfort Company offers an amazing selection of gifts. Tell us about the designing, development and selection of your products.
It's been an adventure for sure! As you know from publishing your own book, the design and development process is pretty involved. Seeing the finished product, however, makes it all worthwhile. In terms of selecting our products, we try to be very selective and just carry products which speak directly about loss. We don't carry any products that are simply inspirational. We want our products to be respectful to the grieving process and address it in a comforting way that honors the emotions the bereaved are going through.
Do any of your products carry particular significance for you? Would you tell us about them?
The Forget-Me-Not pendant is dear to my heart as it really was the product the business was built from.
Also, we recently added a Loss of Father frame in memory of my father-in-law. When we did the photo shoot for this frame, we used a photo of my husband saluting his father's flag a final farewell as his mother looked on. This frame is special to our entire family.
What changes or new trends have you noticed in sympathy gifts over the years?
There are several trends that we have seen over the ten years we have been in business. The first is that people are truly becoming more sensitive in their response to grief. They are reaching out and being open to sharing thoughts and memories of the person who has passed away. The cards we are printing to go along with our gifts are so heartwarming and uplifting during such a difficult time. The second trend is that we are seeing more people respond to miscarriage loss which I think is wonderful. The third trend we are seeing is an increase in the number of gifts sent to grandparents who have lost a child. And sadly, the final trend we are seeing is an increase in the number of gifts sent in memory of young adults who have lost their lives in an accident due to distracted driving.
What advice would you give to people who aren't sure what to get or what to do for someone who is grieving?
My advice would be to keep is simple. You are not expected to explain, justify or take away the pain of the loss. There is a quote that I think of often and it goes something like this: "The burden of grief can be carried when everyone helps lift". I think that's beautiful. Think of the small ways you can help lift companionship, perhaps a phone call on an important day "I was noticing what day it was today and I just wanted to let you know I was thinking of you…." or standing with them in their pain... "Tell me what you miss the most".
Thanks, Renee, for sharing your story with us.
Click on The Comfort Company banner below to see how Renee's company has grown to include a wide variety of lovely and meaningful sympathy gifts.


Return from The Comfort Company to Journey-through-Grief home