Comfort Poems
Death
In these comfort poems death is acknowledged for the blow that it is. Yet we are reminded that we are not alone and that hope rises even in the midst of pain.
This Place I Know: Poems of Comfort
In memory of September 11, the superintendent of District 2 in Manhattan asked Georgia Heard to gather comfort poems to read to the New York City children. She brings together poetry from esteemed poets and places them along side artwork of renowned picture book artists. It is truly a beautiful book that children and adult alike find meaningful when dealing with grief.
Here are a few of the poems:
This Place
There is this place I know
where children go to find
their deepest feelings
they look behind the trees
for hiding wants and angers
bashful joys
this place is quiet
no shouts may enter
no rolling laughter
but only silent tears
to carry the feelings
forward in waves
that wash the children
whole

- Eloise Greenfield
Stars
I like the way they looked down from the sky
And didn't seem to mind the way I cried.

And didn't say, "Now wipe away those tears,"
Or, "Tell us, tell us what's the matter here!"

But shining through the dark they calmly stayed,
And gently held me in their quiet way.

I felt them watching over me, each one—
And let me cry and cry till I was done.

- Deborah Chandra
Holes
Strangest of gaps
their goneness—
mother, father, loved friends

the black holes
of the astronomer
are not more mysterious

this kind of hole
will not be filled
with candle flames
or even a thousand thoughts

the hole is inside us
it brims over
is empty and full at once.

- Lillian Morrison
"Hope" is the thing with feathers—
That perches in the soul—
And sings the tune without words—
And never stops—at all—

And sweetest—in the Gale—is heard—
And sore must be the storm—
That could abash the little Bird
That kept so many warm—

I've heard it in the chillest land—
And on the strangest Sea—
Yet, never, in Extremity,
It asked a crumb—of Me.

- Emily Dickinson
This Place I Know: Poems of Comfort
I find listening to poetry extremely comforting. If you're like me you might want to check out the audio version of my book. Click the image below.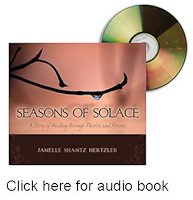 Return from Comfort Poems Death to read many more Grief Poems. You might also like my page of Mary Oliver's poems on grief.
Return from Comfort Poems Death to Journey-through-Grief.com