Tree Metaphor
Memory Book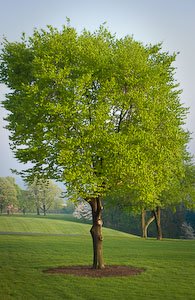 I love trees. For this memory book idea, you would use the image of a tree to tell the life story of your deceased loved one.
As I write this page, I am facing out the window to a large tree that is newly dressed in the bright green leaves of springtime. Trees are a picture of strength and endurance. Although your loved one has died, an important part of who they were will continue to live on within your heart and spirit.
So I invite you to consider the metaphor of the tree for the theme of your memory book commemorating your loved one. You may find the following outline helpful:
Roots:
What made up your loved one's roots?
How did family, culture, religion, childhood birthplace play a role in nourishing him or her?
You may find it helpful to create pages that give an overview of each of these aspects of your loved one's life.
Reflect on what he or she loved about his or her roots. What from these roots would he or she have wanted others to know about and celebrate?
There may have been some dysfunction in your loved one's roots. How did he or she overcome those dysfunctions?
What gave him or her strength for living beyond suffering that may have been endured?
What do you celebrate from your loved ones roots?
Trunk:
what made up the core of your loved one?
How would you describe your loved on as a person?
What was essential to you loved one's interior life?
What was your loved one passionate about?
What did your loved one do just for the shear joy of it?
Who were the people he or she cared about most deeply?
How did your loved one express his or her feelings and emotions?
How did he or she find peace and inner calm?
What cause him or her to be restless at times?
What are you grateful for as you think of the inner person of your loved one?
Branches and Leaves:
How did your loved one reach out to the world?
What causes were important to him or her?
How did he or she express and live out his or her passions?
What work did he or she carry on in the world?
What branches in his or her life were broken?
What did your loved one give to you and to others around him or her?
What stories will your loved one's friends always remember him or her for?
What are the ways your life intersected with your loved one's that you most grateful for?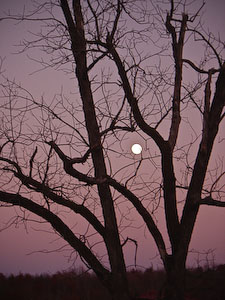 Page Layout Ideas
Whether you are making a paper memory book or a digitally generated book, you will find a lot of background pages to fit the tree theme.
If you are into using your own photos you may want to check out some ideas on the contemplative photography pages. You may find that you are able to create your own photos that fit the mood you are trying to convey about various aspects of your loved one's life.
Trees from different seasons or in different stages of life will add to the various themes of your book. A tree with a stormy sky in the background may be a good illustrator for talking about how your loved one found strength for the difficulties of life.

Return to Memory book main page

Other articles related to Memory Books

Return to Journey-through-Grief homepage