Making a Memory Book
for Your Loved One
Memory books are a helpful way to keep memories of deceased loved ones alive for yourself and others in your family. I made several books of my husband's life.
My husband and I were only married four and a half years before he died. For that short time-frame it was easier to make a book in chronological order. I simply began telling about how we met. I included photos and stories from our dating days, engagement, wedding, and life together until his death.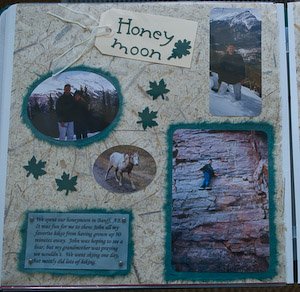 If you don't have many photos remember that birth and marriage certificates, diplomas, newspaper clippings, etc. also can be items to create pages around. For my grandmother's book, she had left over food ration stamps that were used during WW2. As I had never seen them in my generation, I found them fascinating.
If your book is for someone you knew many, many years, organizing it chronologically may not be as easy an option. A theme-based book may work better. When my aunt's son was killed in an accident, she made a scrapbook around his love of hunting.
Ideas for Your Memory Book
Even if you do have a long history with your loved one, it is possible to do a chronological scrapbook. Try dividing up your years together into seven-year spans. What were major events in your first seven years together? Start by writing what you remember. Gather photos, letters, cards, and other items that reflect something of that time period. When you feel that time frame is well reflected, move on to the next seven years, and so on until your book is complete.
If a chronological book is too long for you, think about something the two of you enjoyed doing together. Could your chronicle these events in your life together? Did you enjoy reading together? Write about some of your favorite books. Did you enjoy special songs together? Write about your memories of sharing those songs.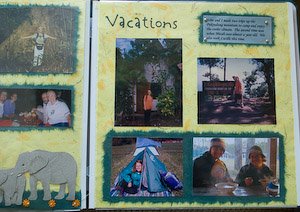 You could also make a book based on various characteristics you appreciated about your loved one. How would you describe your loved one? Write stories and gather photos that reflect those attributes.
If you are new to creating scrapbooks, start simply. A photo or two with one or two paragraphs for a story, one page at a time, will add up to memories you can cherish for years. You can always add creative detail later.
More Ideas
For more ideas for making scrapbooks for deceased loved ones click back to the memory books page.

Other articles related to memory books:
My Memories Suite Coupon and Review
Digital Scrapbooks
Stages of Grief Scrapbook Journal
Grief Journal Scrapbook
Children and Grief Photo Book
Personalized Sympathy Gift Photo Book
Scrapbook Journaling Questions
Memories Scrapbook
Starting a Memories Book
Tree Memory Book

Return to Journey-Through-Grief homepage