Sample Prayers
Christian Prayers
These sample prayers come from a variety of authors. They are Christian prayers that focus on seasons of difficulty in life.
O God,
I wait in the unending darkness
like a chrysalis on a lonely limb.

I am living in the dreadful "in between"
of death and life, of darkness and light,
not coming, not going, just hanging on.

I fight the seeming emptiness
and struggle against required surrender.
Team me to wait patiently,
while my wings grow strong,
for my time to fly has not yet come.

- Joyce Rupp
Little Pieces of Light
This prayer is based on the story of the Canaanite woman from Matthew 15:21-28 and Mark 7:24-30. I think it is a helpful prayer for times of grief and difficulty because it acknowledges that sometime we just feel angry at what seems to be God's response to our situation.
O Most-Nurishing-One, if I asked you for bread,
would you hand me a stone?
I'd believe in the stone,
if it came from you!
Oh, God, where is the bread?
I've sat with open hands for hours.
Is my heart as open as my hands?
Or is this just an empty symbol,
devoid of meaning
devoid of reality?
Is my closed heart laughing at my open hands?

I hear the songs they sing in churches:
You satisfy the hungry with gift of finest wheat…
And I wonder, where is this gift of finest wheat?
Have I become the Canaanite woman to you, Lord?
Are you afraid to through your bread to dogs,
to the unworthy
the blind
the outsiders?
Well then, I'll put on her mind instead of yours.
I'll wear her faith instead of your arrogance.
Even the dogs get the crumbs, Lord.

God, you cannot hide from me.
You cannot scare me with your face of absence.
I scare myself with this hunger for your presence.
I will break all rules to possess you.
To be nourished by you,
I would go to every table in the world.
I would leave no stone unturned to find you
lest when I turn it over
it be changed to bread.
I come looking for bread,
But if you're saving it for your children,
don't worry.
I'll gather up the crumbs if you insist.
I'll make a meal on leftovers
and rejoice that I have been so blessed.

O Most-Powerful-One
I feel so powerless
so little and so poor
so vulnerable
so terribly wide open
so seen.
It hurts to be so hungry
so dependent on your bits of grace.

Even the dogs get the crumbs, Lord
I'll gather up the crumbs
and live.

- Macrina Wiederkehr
A Tree Full of Angels
Here is another Joyce Rupp prayer that is specific for grief and loss.
Companion of the Sorrowing,
bind your love
strongly, fiercely
to the memories
of my loved one
that are stored within me.
May they never wear out
when death grows distant.
I want to forever honor
and cherish the goodness
of my loved one's life.

Guardian of the Grieving,
lift up my sad heart.
Let me find laughter
in the midst of my loss.
Let me find hope
in the midst of my sadness.
Let me find comfort
in the midst of my emptiness.
Let me find meaning
in the midst of my confusion.
Let me find you,
ever-vigilant Beloved,
as my shelter and my solace.
Sustain my aching heart.

- Joyce Rupp
Prayers to Sophia
Janelle's Prayers
When my book first came out, the director of the school I was attending always referred to the book as Janelle's prayers. It always surprised me a bit. And yet, when I stop and think about it, I realize she is right. If we look at the Psalms of Lament, we realize that prayer don't always take the standard religious forms. And sometimes the cries of our heart are the most meaningful.
After a reviewer watched the video bonus feature offered with the audio book, she told me how calming and transformational it was for her. Isn't that what prayer is all about? Transforming us and taking us to the center of all that is unchangeable. Click the link below to see more information about the audio book.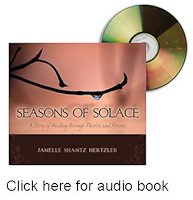 The Grief Journey
uses the Psalms of Lament as sample prayers for people during seasons of grief and pain.
Make online prayer requests. Return from Sample Prayers to Inspirational Prayers.
Return from Sample Prayers to Journey-through-Grief homepage