Wild Flowers
by KIm Bolduc-Bartlett
(China, Maine)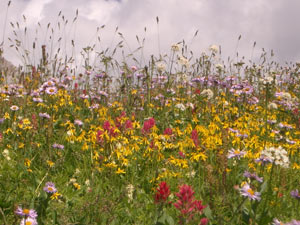 Wild Flowers

I grew up playing in a large field next to a cemetery. I would bring my mother endless handfuls of flowers that I had found in the fields and woods behind our house. Yellow Dandelions, Bluets, and lavender Violets would be carefully carried home in the spring. Fragrant Lilacs and Lilies were next.

As the months changed, so did the flowers in the field; early summer would bring the long stemmed Daisies, and their yellow Buttercup companions. Purple Lupines bloomed and went. In the hot summer heat- came the pale pink Mallow, Black-Eyed-Susan's and wild blue Asters.

Sometimes there would be a lesson from the flowers I brought home. The orange-red sap from the Bloodroot flower could be used as dye. Pansies and Nasturtiums would be eaten. Rose petals and Bee balm could be made into tea.

As a wildflower song played quietly in the background of the same cemetery, bunches and bundles of wildflowers were placed on my mother's headstone.

To the average person, one might assume the family could not afford any better; for my mother; she was surrounded by the flowers that she loved the most.

Join in and write your own page! It's easy to do. How? Simply click here to return to Your story.