What just happened?
by Jayne
(Davie, FL)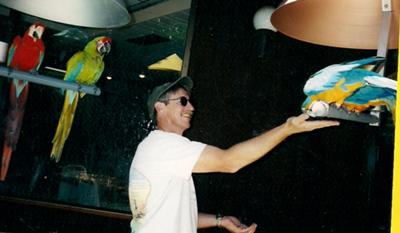 A real parrothead!
Today is Tim's birthday. He would've been 59. I miss him terribly.

July 4, 2007 I had a feeling Tim wasn't feeling well. I offered to take him to the doctor's office. Being the man he was, he didn't want to go. He said he'd take a nap and things would be better. While he was sleeping, I felt as if I needed to put a mirror under his nose to see if he was still breathing.

The next day, when I noticed he couldn't pick up his spoon for his soup, I gave him the option of going to the emergency room with me or have all of the neighbors watch as the ambulance came to pick him up. He said "take me". At that moment, I knew something wasn't right.

It seemed he'd had a stroke. I knew he was tired last week, but when I asked him to go to the Dr.'s office, he just said it was work and over exertion from the gym.

The Dr's in the emergency room thought he had the stroke a couple of days before. The wanted to do a CAT SCAN..

"May I speak to you alone, Mrs. Fulton?" said the Dr. He explained they saw something on his brain but needed to do a MRI to see it better. "On his brain?" I asked..I was shocked and didn't know what to say. Tim was taken for an MRI. The emergency room was going to admit Tim to the hospital. It was serious. It was a long night.

The next morning a Neurologist came into Tim's room and uttered the words I dreaded to hear. "Tim has a brain tumor, that had metastasized from the lung and has, maybe, 12 months to live"..Tim and I looked at each other and were silent. I could see that Tim wasn't right. His concentration was short and had fragmented words. I was scared. I had to tell the kids.

I asked Tim if he would mind if (my best girlfriend) flew out to see him. Mimi flew in from Seattle the next morning. I was asked if we had a living will. Ironically, we did. It all felt surreal. Tim sick? I couldn't understand it.

After a couple weeks of radiation therapy, the Dr. spoke the words I knew were coming but couldn't bear to hear...."If there is any family members that needs to fly out, call them NOW. There's nothing more we can do." At that point, Tim was not awake and was ready for hospice.

Tim passed away exactly 28 days from his diagnosis. He died in his home, listening to Jimmy Buffet, and I was holding his hand. I was blessed to be there with him. I had 14 wonderful years with him. He was my friend, pal, lover and rock.

Happy Birthday, Tim. I miss you.