Still cannot say the word...."dead"
by Janis Allen
(Sterling Heights, MI)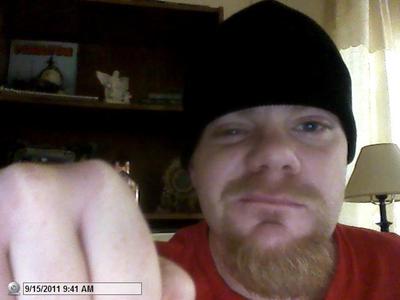 My Lucas
My son Lucas, age 32 passed away on August 25, 2012. It was a beautiful summer day ~ I spent that day at a picnic with my sister and friends.
Most of Luke's life was sad. He was a 'big boy' all his life until age 18 when he was diagnosed with Diabetes. He lost a lot of weight and worked as a mechanic but shyness and not feeling well kept him at home ~ not going out much. Everyone loved Luke, he was kind and his smile was extraordinary; even as a baby people would stop us just to comment on his beautiful big blue eyes, red hair and eyelashes that swept off his cheeks.

By the age of 30 Lucas could no longer work. The Neuropathy kept him in a lot of pain. He was put on SS Disability and his days were filled with nothing but TV and his computer. A whiz at the computer, he could make them, fix them and didn't charge a dime. He would give the shirt off his back to someone who needed it.

The last month of his life he would call me daily to check up on me. (I am disabled with many health problems and with every surgery he was there for me, helping me at home and learning how to use a lot of medical equipment.).....I could hear in his voice how miserable he was and when I would take him shopping I wrenched with each step he took as I could see the pain in his face and the way he moved.

Unfortunately Lucas began to drink, hoping to alleviate some of his pain. Being Diabetic drinking is not advised. He wasn't eating right and at 6ft 4" tall his large frame began to dwindle. His muscles turned to skinny arms, his chest shrank and those big blue eyes were glazed. Hardly any smiles anymore. So young and still so much to give he spent his last days in his home not wanting to go anywhere, talk to nobody or be seen.

I got home that night and as I walked toward my door I could see a note was taped on it. I put the key in my lock as I reached for the note. My eyes went directly to the words...."Luke is dead". I screamed and my neighbors came running out for me. Someone took the note from my hands and read it. My ex-husband placed it on my door. My neighbor commented "this is cruel!" and he carried me into the house.

I can't smile without thinking of Luke and feeling it's wrong. I miss him so much my heart truly aches. No one to talk to about it because....(God Bless them) they seem to say the wrong things, the same old things most people will say...."Im sorry, He is in a 'better place', time heals....etc., etc. The only person I am able to talk to about Luke is his father; we have been divorced now for 15 years, I think it feels 'right' because he KNEW Lucas the way I do. I grieve alone. I talk to him everyday, all the time. I do feel him near me. His passing has changed me forever. At times I yell at him and tell him to come back. I cry where I cannot catch my breath and at times wish I could be with him. Nothing is exciting or new to me. I try to stay busy and some days I feel ok ~ then I feel it's not normal to feel Ok. So many memories.....I love him more than life itself. I don't know what my future holds...I plan nothing in 'fear' I will 'lose my composure' in front of others. The more friends/family try to cheer me up I just don't feel like listening to them. I don't want those who didn't know my Lucas and/or the relationship we had as mother and son to be talked about. Lord get me through this.