My Dad was my hero
by Joshua King
(Wales)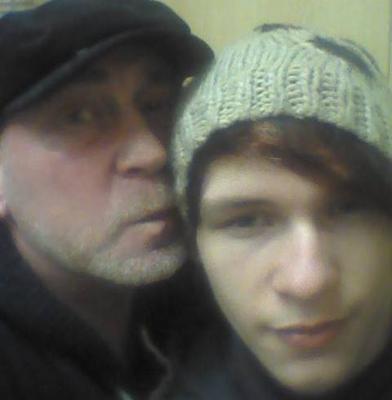 Cheeky Selfie
Well he was the best father I think anyone could ask for. Always had a smile on his face, never let anything get to him, sarcastic (he was in a coma for a long time). But even so I would always see a smile.

Danny John King was born in Germany on 6/2/1968. He lived with his mum, dad and sister. His dad was in the army and I don't know what his mum did. Typical dad fashion as a child, always in trouble, did things against his parent's wishes (you know what we've all done).

Fast forward to his 20's and he joined the army (filling in the father role) and he enjoyed it a lot. I always hear stories about him, mainly of how he forgot his tools and threw a tantrum.

And then on the 10/06/96 I was born in Hereford (Old SAS Camp). I was his only child and their was complications at first (I'm a full time wheelchair user). But he got through it and found a positive in my disability calling it a gift and making me unique. But after a altercation with my birth mother, he took it upon himself to raise me all on his own.

I basically followed in his footsteps (lashing out, getting in trouble at school, annoying him, messing up the house, etc.) But I had my other best friend which was my first dog. My dad got him when I was a month old, so in which he grew up with me. Every time he would go to work I'd be with my dog playing with Lego, Transformers, Power Rangers, the list goes on. So in essence my dog was my first real friend.

But around my 14th we had to give the dog to another home (which wasn't the case he had to be put down), so I did what any kid would do at that age. Spend the last few minutes with him before dad took me home, I remember giving him a massive hug just before. It wasn't until later I over heard my dad saying they put him down that I lashed out and locked myself in my room. I should also point out that 2 years after, my friend gave me his dog and now this one is old but very protective over me.

Around my 18th we had received news that my Granddad had passed which ultimately destroyed my dad and devastated me (I rarely ever saw my granddad, but the last time I spoke to him he just asked me how I was and told me to look after my dad). The Funeral was the worst day of my life and I won't forget him either.

I can't be accurate of when my dad was in a coma but when news had originally hit I refused to visit him (Not out of spite, mainly because I didn't wanna get upset in front of my Nan). But luckily he pulled through, and I was ecstatic the old fart has to spend more years with me.

I've recently turned 21 and as you do, I went out with friends, got drunk and came home to an angry dad. Everything at the time was fine, he was completely fine, no signs of illness, nothing out of the ordinary.

But on the 8/7/17 my life came to a complete stop. I was fast asleep in my room and I was supposed to be going out with a couple of friends, catch up drinks. And I did my usual thing, woke up, had a cigarette, listened to some music and chilled for a while. I had noticed my dog wasn't in my room so I went to check outside (My house is a bungalow). And the second I turned the corner he was laying on this chest. At first I thought we was messing around because we had this childish bond, but I called his name 6 times and no response. I think in these situations you don't think you only react and you go numb for a while.

I don't want to explain more because I know it's too soon to post this but I'd rather get it out because leaving it in my head isn't great. But that's the life of my dad, soldier, father, best friend. He gave me the best 21 years of my life and to that I'll remember him as he always was; childish but caring.

Sleep well dad, I'll never forget you.