Mary J Luquette
Grief and Art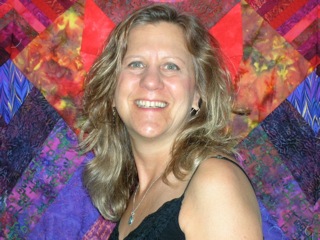 Mary J Luquette was turning 50 and stuck in a marriage that she says, "should have ended years before," when her husband was diagnosed with Hepatitis C/liver failure. She became his primary caregiver and their relationship deepened as they faced his possible death. Six months later, in the midst of her husband's illness, Mary had to have a major colon operation. The day she was supposed to be returning to work after recovery, she received a phone call with the devastating news that her brother had committed suicide after years of depression.
The string of major losses continued. Her work place closed its doors, her husband died, another brother had a fatal heart attack, and she was the primary care-giver for her parents before they passed away. Her family had experienced grief 30 years earlier when an older brother was killed in a car accident involving a drunk driver. This time, however, her surviving 5 siblings drew apart under the pressure of so much grief and pain. Mary's world as she knew it no longer existed. How did she cope with such complicated grief?
Mary began years of counseling, which led to her taking spiritual retreats where she began to explore a new and deeper relationship with God. Many people suggested she was being giving the test of Job. However, Mary says she never saw it that way. She doesn't recall being angry at God, but rather felt an invitation to live life with less fear and greater compassion for herself and the world. She continually found herself asking what she was to learn from each loss. During the grief process, Mary discovered new confidence in unexpected ways, such as new levels of fitness which has led to triathlons. Also, she permanently gave up a two-pack-a-day smoking habit. The most unique way Mary worked through her pain was quilting.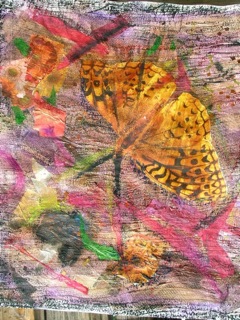 Mary first started quilting to fill the long hours of sitting in the hospital with her husband and later her parents. She had always sewed, but these quilts evolved out of the confusion that nothing made sense anymore. They became pieces of extraordinary art, which gave expression to the deep sorrow Mary was experiencing.
She says the quilting helped her redefine herself. She had lost most, if not all, the roles that gave her definition — sister, daughter, wife, and job roles. She came to realize that the roles were others' definition of her, and she needed to define herself in her own words to become a fully authentic being.
The quilts also gave her a physical representation of her grief journey. And they gave her comfort. At times she would wrap herself up in a quilt and just sit with it.
She experienced different kinds of grief with each death. The quilts have helped her see how different types of loss effect people in different ways. Her art taught her that grief is a unique journey for everyone. Mary is now a spiritual director, retreat leader, artist, triathlete, and public speaker. She helps others discover confidence and creativity in their own lives. She says these roles have been the graces of the last ten years because ten years ago she would have laughed if anyone had suggested her name would be associated with any of these titles.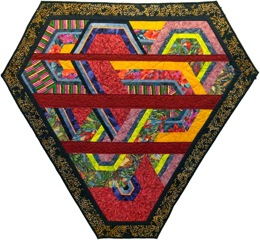 Her first quilt was called Grief, No You Don't Know Just How I Feel! When she was working on it, she couldn't get it to fit together right. Then she realized that life doesn't fit together — and you still have to make it work. So she started making her own patterns and developing her own rules for quilt-making. Eventually she began selling her work in a local art gallery. Being awarded first place in a juried art show for this piece, gave her further confirmation that she was an artist.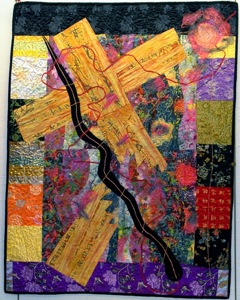 This second quilt Death of My God was also made in the midst of illness and death. The broken cross signifies that her old images of God no longer worked for what she was experiencing. The snake that is breaking the cross represents wisdom and knowledge. In the corner is a ball of energy signifying her belief in God's role in the changes happening in her life. She was comfortable questioning God and says, "It wasn't like I was mad at God, I was just questioning my whole basic value system, saying, 'there has got to be more.'"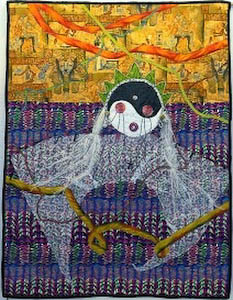 Sofia Crying My Tears was inspired after she won first prize for her first quilt. Mary was not able to be at the art show when the winners were announced. A friend was there in her place. When the friend heard that Mary had won, she burst into tears. "Sofia Crying My Tears" came out of the acknowledgment that so many times Mary was not able to cry her own tears, but others and God cried for her. Sofia is the Hebrew word for wisdom in the Biblical book of Proverbs, which is a personified expression of God.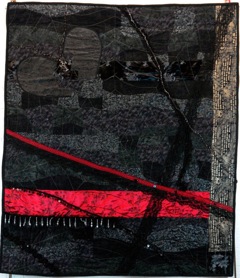 Wednesdays at 4 Cancelled was made when her first counselor moved away. The cross (small pendent in upper left section of the quilt) that Mary had worn to all of the funerals felt like something she could no longer wear. She used black fabric to symbolize the darkness and the horrible grief she was experiencing during this time. She incorporated red because of her passion for life. The spider web stitching was a symbol of creativity.
Take note of the broken, black heart on either side of the cross representing her own heart in the darkness of grief. Mary felt her heart shatter in two from the stress of losing her counselor. She says the counselor had been her lifeline through everything, and it felt like that lifeline had been severed. She made the choice to let go of the rope and believed God would catch her in the fall; hence the cross in the middle of her darkest moment.
Mary now leads weekend retreats through Kairos School of Spiritual formation. These retreats incorporate themes of loss, creativity, and personal growth in the midst of life's difficulties. Having participated in these retreats, I highly recommend them. You can read more about them at Visualizing Your Spiritual Journey. Return from this Mary J Luquette article to read other bereavement stories. Tell us how you've worked through your own grief at bereavement stories. Grief and Art Section
I will soon be adding a new section on grief and art. If you have used some form of art to work through grief and would like to be featured on this site contact me. More articles related to grief and art:
Photography for Dealing with Grief
Make Memory Books
Visual Grief Journal Copyright: Mary J Luquette holds the copyright for all the photos on this page. They cannot be used elsewhere without her permission.
Return from Mary J Luquette to Journey through Grief homepage