Grief and the Holidays
Ian's Gift
Grief and the holidays are often a difficult mix for people who have lost loved ones. How can you be real with your sorrow? How can you keep the memories of your loved one a part of the season--not only for yourself, but others as well?
Recently mutual friend forwarded a story that Amy Mapes wrote on her facebook page called Ian's Gift. This story highlight some of the ways that Amy has dealt with grief and the holidays over the years since her son Ian's death. I found the story very moving and asked Amy if she would be willing to share her story with an interview on this site. Below is our interview: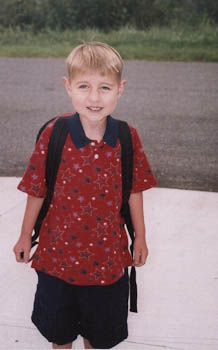 Introduce us to Ian and your family.
When I was 24 weeks pregnant with our first child, Dave (my husband) and I found out that the baby I was carrying had severe heart defects. The doctors weren't even sure if he would live a few hours. Ian was born on Mother's Day 1998 at Duke University Medical Center (3 hours from our home), where a team of pediatric cardiologists were ready to treat him. There were a total of 8 heart procedures over Ian's first 4 years of life.
In the meantime, we had three more healthy children. Clare was only 18 months younger than Ian, and they were the best of friends. They were never apart. Sean and Ryan were born in 2002 and 2003, respectively.
Tell us about Ian's death.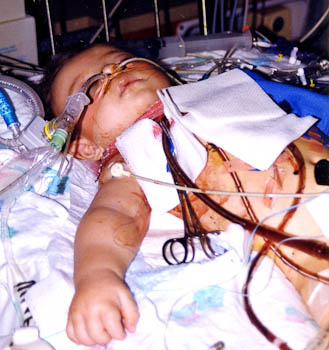 Ian had a regular checkup in April 2005. His doctor thought that he was still stable (at that point Ian hadn't had any surgeries for 3 years). We talked about heart/double lung transplant but the doctor said that Ian wouldn't even be listed for another 5 years or so. I had an uneasy feeling on the 3-hour drive home, so I sent the doctor an e-mail asking if I would be mistaken if I felt that we should do some special things with Ian before he declines? The doctor said that it would be a slow decline but don't put things off for too many years. We decided to take Ian and Clare out of school and visit Thomas the Tank Engine that was near my parents' house in Western New York to celebrate Ian's 7th birthday.
We were back in New York for the summer (we spent the summer there too avoid the Virginia heat that was hard on Ian). It was August 6, 2005. We were getting ready to go and take some family photos at Niagara Falls. Ian had had a great morning—blueberry pie for breakfast, taking care of horses with his grandma, playing with his siblings and cousin. Ian didn't feel good for a few minutes. He had a headache and felt nauseous. We put him in a stroller and walked him up and down the driveway to settle him. Ian had a quick seizure, and we got him to the hospital within 3 minutes. Ian was already gone. Dave was holding him in his arms. We like to think that he went from his earthly father's arms to his Heavenly Father.
The hardest thing I have ever done was when we returned to my parent's house, and Clare ran out to the van yelling "Ian, Ian! I saved you some popcorn." How do you tell a 5-year little girl that her best friend and brother was never coming back?
What was grief like for you and your family?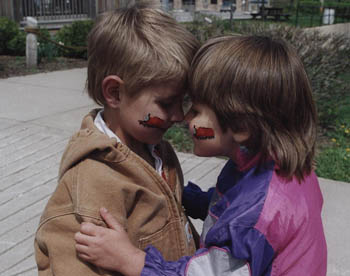 It is so hard to lose a child. Unfortunately, it had been a real possibility from the time I first became a mother. I wish that I could have curled up and really grieved …then again maybe I would never have emerged from the cocoon. We had 3 small children that still needed their mom and dad. We couldn't stop living. The best we could do is to make the memory of their brother a real thing.
What were some of the ways you kept Ian's memory alive? How was this helpful to your grief?
We have done so many different things. We requested donations in lieu of flowers in order to build a playground in Ian's memory at our church. It was dedicated on Mother's Day 2006. Ian's elementary school planted a magnolia tree in front of the school and a teacher's husband donated a marble marker for it. It blooms every year in May…Ian's birthday month.
We donated a brick at Give Kids the World (a special place in Orlando, FL for wish kids).
We started a scholarship for special education teachers at the college I attended.
On Ian's birthday a few years ago, I searched on AnySoldier.com for a soldier named Ian so that I could send a care package since I couldn't get Ian a birthday gift. I sent the box with a picture and note about my Ian. Well, a Marine named Ian David Insley (same middle name as our Ian too) now carries Ian's picture in his arm patch. We have maintained contact and have even gotten to know his mom. The whole family has been invited to "Marine Ian's" wedding in the spring.
My parents and our family both donate money to the local library where Ian participated in the summer reading program. They have used the money to buy books and movies…some of them Thomas the Tank Engine. (Some of the books have actually had to be replaced because they were used so often)
Then there is the annual Ian's Gift.
Tell us about the Christmas gift idea. How did it come about?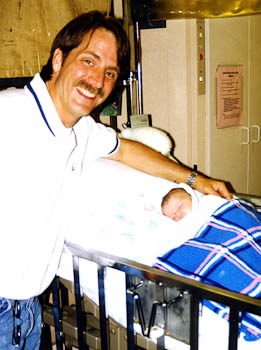 You always hear that the holidays are hard when you have lost a close relative or friend. Personally, I believe everyday is hard but there is something missing at Christmas. You make your gift list and someone is missing. You think of how much they would like the new toy (movie, book, etc.) that just came out. You see a sweater that would have been perfect for your Grandma.
A couple of months after Ian passed away I read an article about grief and the holidays that stuck with me. The article was meant for people who had lost older family members. Don't forget about your loved one during the holidays. Embrace their memory. If Grandma would have liked that sweater, why not get it and give it to an elderly lady all alone in a nursing home. If Grandpa loved to read mysteries, donate some money to your local library to buy a new mystery. (Libraries will usually put a dedication sticker in the front of the book)
We adopted the idea and adapted it to Ian. Ian loved Thomas the Tank Engine so the first Christmas without Ian we gave a collection of Thomas the Tank Engine items to a child in our church. Each year since then we have chosen a different child to receive "Ian's Gift". The recipient family isn't necessarily needy or lonely…just a family who we would like to share a little love and encouragement. (I guess that all of us would like to feel that at one time or another) The items have changed over time but the reason hasn't. I love to think of my little boy and how much he loved opening Christmas presents. Thinking of Ian doesn't make me sadder…not thinking of him does. When I give Ian's Gift to the child, I give their parents a picture and note about Ian. I want others to know about my special child and to know that I think that their child is special too.
When you go shopping this holiday season, if you see something that would have been perfect for your loved one that passed away, buy it. Write a short note about that person and share the gift with someone who could really use a smile this year. Can't think of anyone to give the gift to? A local nursing home, a church or Meals-on-Wheels would be a good place to start.
How was it helpful to you that first year to give that gift?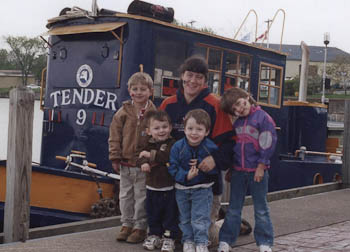 I didn't want to forget Ian, and it didn't seem right to not buy him a gift. I didn't want to forget him, and I wanted to make sure that others remembered Ian too….whether they knew him or not. The first year Ian's Gift was given to a friend of his from our church. The little girl loved Thomas the Tank Engine as much as Ian did. She still has one special train on a shelf and won't let anyone touch it….it's Ian's train. It feels good to know that a child still remembers her friend.
Do you still do it? Have the gifts changed over the years?
We have given Ian's gift every year since. We used to pick a little boy and give him some Thomas items. As our other children have grown, we have given movies that we think Ian would have enjoyed along with his siblings. This year we are giving a doll, clothes and a blanket that I made to a little girl. It isn't always about giving things that Ian would have liked but more about making a child as happy as he was.
How has this Christmas gift giving affected your grief and the holidays in light of Ian's death?
I like feeling that it is okay to miss Ian during Christmas. To think of him and his amazing kindness and joy. Do I cry? Of course. Do I want to forget? NEVER! And I want others to feel some of the love that I have for him.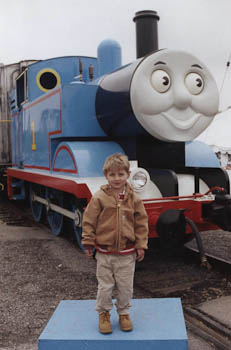 Articles Related to Grief and the Holidays

Your Turn: Grief and the Holidays
How do you deal with grief and the holidays? Do you have an idea that has helped you? Please share it with us.
You can also using this form to respond to Amy's Grief and the Holidays story.
Have An Idea To Add?
Do you have thoughts would be useful to other readers? Share them!
Return from Grief and the Holidays to read other Bereavement Interviews
Return from Grief and the Holidays to Journey-through-Grief homepage